3D Laser Scanning and 3D Modeling
Detailed digital documentation
Fast and accurate measurement
The best basis for restoration and remodelling
Future-proof for the next generation
Possible recovery after fire or storm
Securing both building and furniture for the insurance company
We use some of the best and latest equipment in 3D laser scanning.
Modelhuset ApS makes 3D laser scans and 3D modelling of old apartment blocks, shops, factories, etc. We take the 3D point cloud and draw it up in 3D CAD and deliver one complete file. We draw in Revit, but also have the opportunity to supply Archicad on request. Typical file types we provide in are .IFC, .DWG and .rvt.
BIM (Building Information Modelling) is becoming a standard when offering new larger buildings, which requires working in 3D. BIM is ready for new projects, but the challenge arises with renovation projects of old buildings!
It is estimated that about 95% of Danish buildings do not have electronic 2D or 3D files available and the drawing material that may be available in physical form is typically deficient and not kept up to date. The fastest and most accurate solution is to scan the old building.
Modelhuset uses some of the best and latest equipment within 3D laser scanning. The scanner reads up to 976,000 dots/second and has an accuracy of +/- 2mm. The tolerance on the files is typically within a few centimetres, which is due to the skews that occur in all buildings.
3D laser scans and BIM save 10-20% on the construction project.
The latest report from the EU BIM Task Group refers to the fact that a saving of 10-20% can be created by utilising BIM.
On the public Danish construction projects, BIM is expected to become a standard and this is already a point in the contract for many public contracts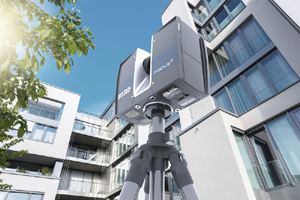 We scan:
Buildings
for use in accurately calculating material consumption on a construction project
Shops
for interior designers, thus saving time and getting one 3D file to work with
Old apartment blocks
that need restoration
Buildings worthy of preservation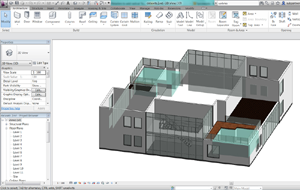 With a 3D survey of your existing buildings, you get the best foundation when you need to renovate or rebuild.
Both when the construction is to be designed and planned, and when you have to obtain quotes for the task from contractors, construction companies and other suppliers. Because with all the dimensions and relevant BIM data available, it will be easy for all parties to draw, plan and calculate your construction task.
3D surveying is also the best way to document existing buildings to e.g. insurance companies and public authorities. At the same time, they ensure that you can always have the buildings rebuilt so that they look exactly as before. For example, after a fire or storm damage.