Augmented Reality
With augmented reality AR, you have the opportunity to view a project in front of you as a hologram
Modelhuset is working today with different options for using AR. We have built them into our demo solutions, which can be used in the App Store or in Google Play.
Below is a solution in a browser where the display can be used as a 360 degree model but without the AR functionality. If the browser solution opens up in Sketchfab on a smartphone or tablet, it can be displayed in AR mode.
Use the mouse to start and rotate the model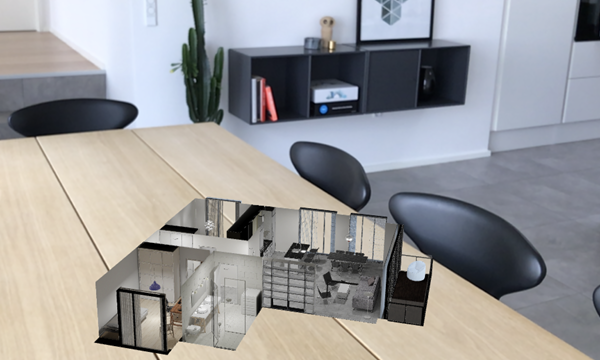 The AR model shown on the left is located here for showing a new apartment.
To use the AR function, it requires a smartphone or tablet with a camera to be able to place the model in space. The AR model can be inserted wherever you want - on the living room table, the kitchen floor or on the meadow where your new house is to stand.
Many argue that AR will be the future of home interior design and global companies, as IKEA and LEGO have already embraced this technology. The technology is still a few years away from being fully optimised and AR glasses have only just begun to come on the market. The AR applications we develop do not require AR glasses, which is why they are very user-friendly.